Uncork your luck
Happy New Year! 😀
I'm looking forward to starting this year on a high. So here's announcing the first contest on GiggleWater411. I'm super excited about this and all the other cool things that are lined up for the blog in 2012 and I hope you'll are too.
Thank you for coming back week after week to see what's happening. It's why I keep blogging!
FRATELLI CONTEST
If you read my post The Story of Fratelli then you know that this vineyard produces some real quality wines.
In keeping with the festivities of the season, Fratelli Wines is giving two lucky GiggleWater411 readers a chance to win a bottle each. All you have to do is post a comment and answer this question – WHAT HAS BEEN YOUR BEST WINE MOMENT?
It could be an especially satisfying wine experience or even a memory of  shared laughter with friends over a bottle.
Don't forget to Like the new Giggle Water411 page on FB here to be eligible to win this and other goodies!
I really enjoy Fratelli's Chenin Blanc 2011 and am making my way through the tasting of their other wines (looking forward to the Sangiovese). I love my sangria and I must say that their Classic Red and Classic White make for a great base. Wine connoisseur and fellow blogger Aneesh Bhasin (also a top-notch photographer) first suggested I use Fratelli for the sangria pitchers I was planning for the night, and they were a complete hit. At Rs. 395 for a 750ml bottle they are also very affordable, especially when you have sangria guzzlers around!
I used the Classic White for a melon sangria with musk melon, apple juice and a dash of vodka. To the Classic Red I added apple cubes, orange slivers, orange juice and some roasted cinnamon. Superb! I won't tell you how much of each to use because I've found it is best to add to taste depending on whether you prefer it sweet or a little acidic.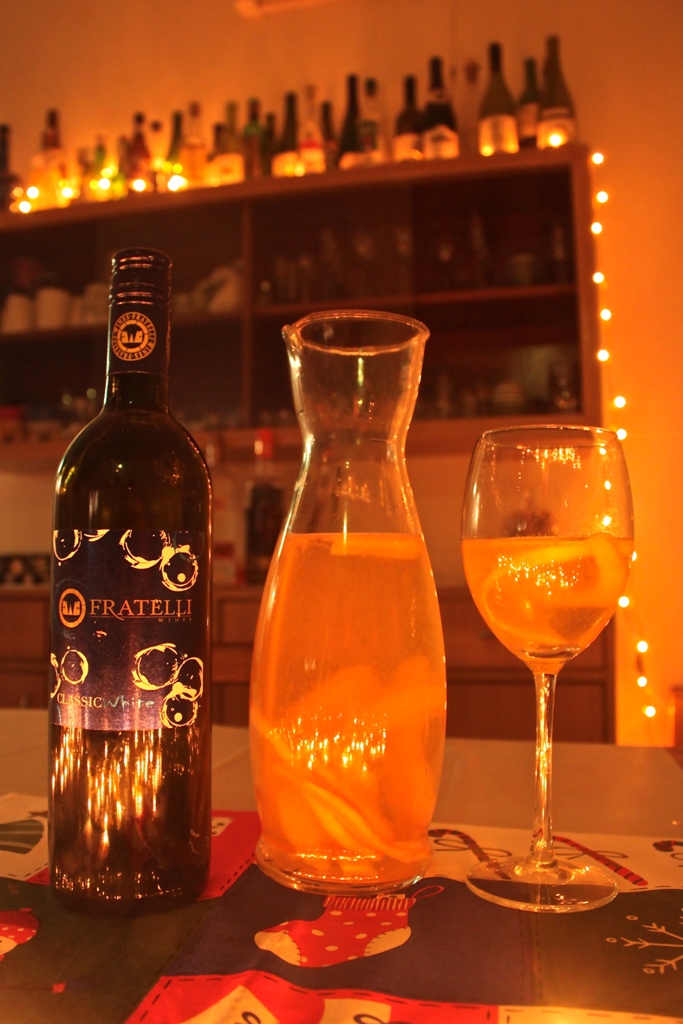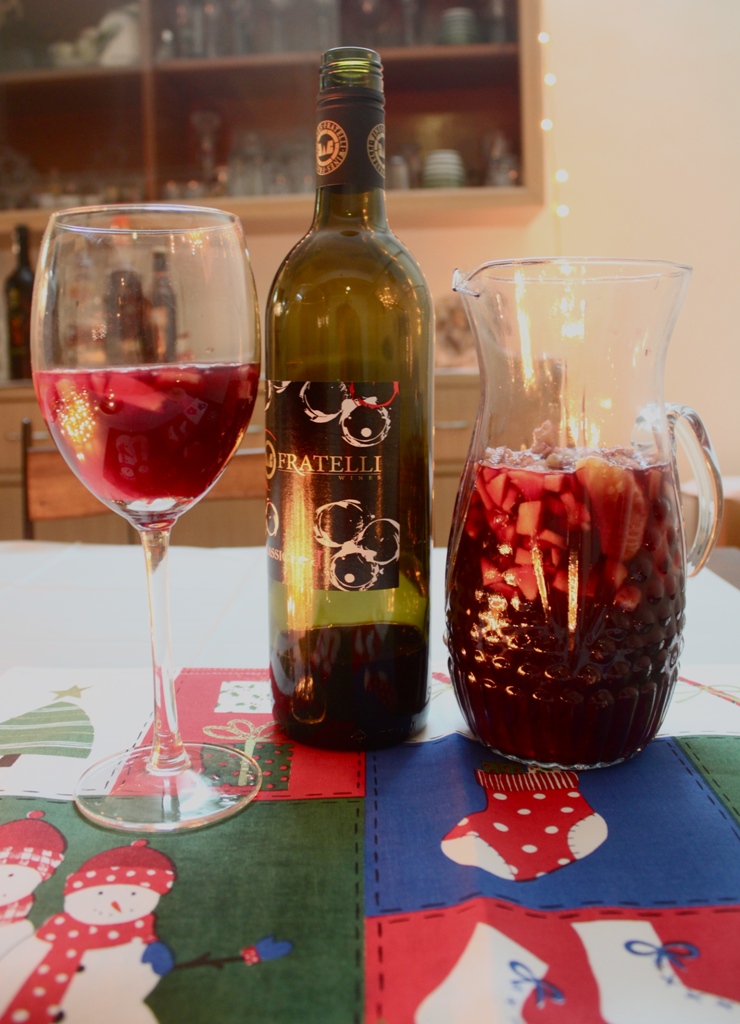 The 2011 tasting notes:
Chenin Blanc 2011 – Silky smooth and medium-bodied, the fruit is reminiscent of peach and lime with mineral accents. The crisp acidity balances the slight residual sugar to create a dry impression, coupled with a silky texture. Not overtly complex, but carefully constructed and well balanced. Rs 495 for 750ml
Sauvignon Blanc 2011 – It holds a high level of intensity throughout, and its low pH, high acidity and touch of residual sugar are so perfectly balanced and elegant in structure. It is so emphatically varietal, yet subtle in its complex fusion of melon rind, lime, grapefruit and dry grassy/ herbaceous flavours, that you're left entirely satisfied and wanting. Rs 595 for 750ml
Cabernet Sauvignon 2011 – This classic-style Cabernet has great balance and nuance. The first impression is of concentrated blackberry and black currant fruit, but more impressive are the subtle notes one finds underneath the fruit: black olives, subtle minerality, a hint of sage and an elusive spiciness. The soft tannin adds to the wine's structure without adding bitterness. Rs 650 for 750ml
Chardonnay 2011 – Offers bright aromas of tart apple, sugar melon and a brush of lemon- chiffon wrapped around a citrus peel core.  The delicious palate is hung on a lovely frame of firm acidity to give it structure and vibrancy with a fine edge of minerality piping in throughout the finish. Rs 695 for 750ml
Shiraz 2011 – This wine is packed with fresh, juicy flavours of cassis and blackberry with spicy dark chocolate undertones. The velvety entry in the mouth strikes the perfect balance between sweetness and acidity, which are kept lingering for a lengthy soft finish.  Rs 650 for 750ml
Sangiovese 2011 – Aromas of perfumed red fruits, cherry and lolly musk. With more air, raspberry and vanilla bean emerge. . Supple, ripe, and intense on the palate, it has plenty of spicy cherry fruit and hints of cardamom following. The finish is long with a fine underlying structure, even tannins, and exceptional length. Chianti has come to India! Rs 795 for 750ml
Merlot 2011 – Full and fat with classic plum and red cherry like fruit. Good depth and concentration. Crafted in a fresh, clean style, this velvety Merlot offers enticing aromas and bright, juicy flavours of cherry, dark berry and plum backed by subtle mocha and herbal nuances and a delicate minerality. Rs 795 for 750ml
Classic White – A beautifully vibrant wine, with fresh aromas of melon and cumquat with a hint of lemongrass. The mouth explodes with fresh clean acidity which cuts through the succulent tropical flavours, while lingering flavours of passion fruit and guava travel along the mid-palate. The wine finishes with a sprinkling of lime juice and dry mineral notes. Rs 395 for 750ml
Classic Red – The wine is deep ruby red in colour with aromas of plum, blackberry and spice, with hints of typical earthiness and coffee on the nose. Medium bodied on the palate with a soft supple mouthfeel, this is a well balanced wine exhibiting the elegance and complexity on the palate all framed in a velvety texture. Rs 395 for 750ml