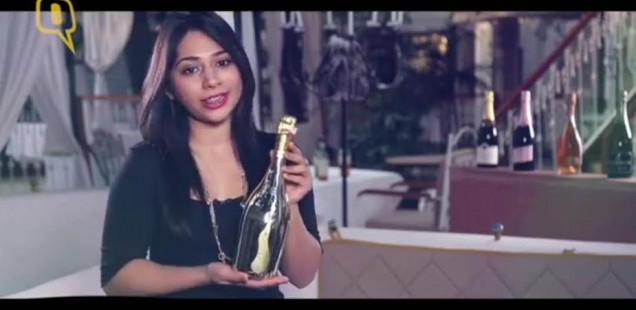 Video: Bubblies for the festive season
I love my bubblies and their uncanny knack for disappearing from my glass so quickly.
There's just something about sparkling wine, don't you think? The minute you say bubbly you think celebration. And with a slew of festivities approaching – Diwali, all the way up to Christmas and NY, not to forget the wedding invites that are lining up – it's the perfect time to check out these 5 bubblies that will get you through a sparkly festive season.
Special thanks to Sevilla at The Claridges New Delhi for providing us a lovely setting to showcase these wines.
Zampa Soireé Brut Rosé
This Nashik wine from the house of Grover-Zampa is easily available in most cities, and is priced between Rs 1000 – Rs 1300. It's made from the grape Syrah in the Brut (not sweet) style. Fruity and fun, a great way to start an evening. You can find out more details about the wine house on Facebook here or on Twitter here.
Foss Marai Roos Brut
This rosé Spumante (Italian sparkling wine) from the region of Veneto is a great wine to bring home when you're entertaining. Works as a nice aperitif but if you want to continue drinking it through the night, it'll hold its own against most cuisines too. At Rs 2500 it's an easy pick for those nights when you're craving something special but don't want to go overboard.
Gramona Gran Reserva 2009
I only discovered this wine a few months ago and I loved it! An event that Gramona sometimes organises for professional wine tasters involves a blind tasting of Gramona variants alongside some of the most established Champagnes the likes of the very prestigious Krug. Not only have Gramona's sparkling wines managed to stand shoulder to shoulder with these biggies but they've often come out trumps as well. A wine with soul, and complexity. It's imported by Wine Park and is most easily available via info@thewinekart.com or 9820859548.
Bottega Gold
A bottle that certainly stands out. Knowing our Indian households, I'm willing to bet that once the wine is done there'll be more than a handful of people that'll use it to grow money plants out of. Hell, I'm pretty tempted myself. From the region of Prosecco, the famous Italian sparkling wine region, this one is pricey, but is a lot more than just the wine inside.
Billecart-Salmon Brut Reserve
Another from Wine Park's fold, this Champagne, in my opinion, is among the best that's available in India right now. It comes from a boutique Champagne house and so even their entry-level Non Vintage one (like this one is) is considered premium. info@thewinekart.com or 9820859548.