World Whisky Day Line-up
For World Whisky Day I'm taking you through part of my whisky stash. As you might imagine, I have a (more than) fair share of options. For the sake of brevity, I've chosen ones that are available in India (which is why you won't find my go-to Bourbons or Japanese malts on here). This list will also introduce you to a few of the newest whisky additions to Indian shelves, of course a few classics for good measure.So in no particular order, here are the drams that I'm sipping on nowadays.
Scapa Skiren: Made on Scotland's remote Orkney Islands, this isn't what you'd expect from a typical island malt. No peat is used here, instead it's quite tropical. Really fruity up front, honeyed and some citrus, zesty and floral notes. Slowly the oak and spice from the first-fill American Oak barrels shows through. A nice, crisp sip. It's really new to Indian shelves and although I didn't know much about the brand before they came here, I reach for it often now.
Glenmorangie Signet: From the distillery with the 'tallest stills in Scotland', comes this curious dram. This single malt includes spirit distilled from heavily roasted barley (Chocolate Malt), which is then blended with other Glenmorangie malts – some Sherry finished, some aged in new oak casks, a few secret ones, and a 'top-dressing' of 35 – 40 year-old single malt. It all comes together beautifully in the Signet with notes of dark chocolate, espresso and almond biscotti. No, really!
Longmorn The Distiller's Choice: I've only had this whisky in my bar for a few days now. The Speyside single malt is matured in three different barrels: first fill American oak barrels, ex sherry butts and traditional oak. Elegant and balanced are the words that comes to mind after the first sip. Sips so smooth, with white pepper spice up front giving way to a sweet, soft caramel finish.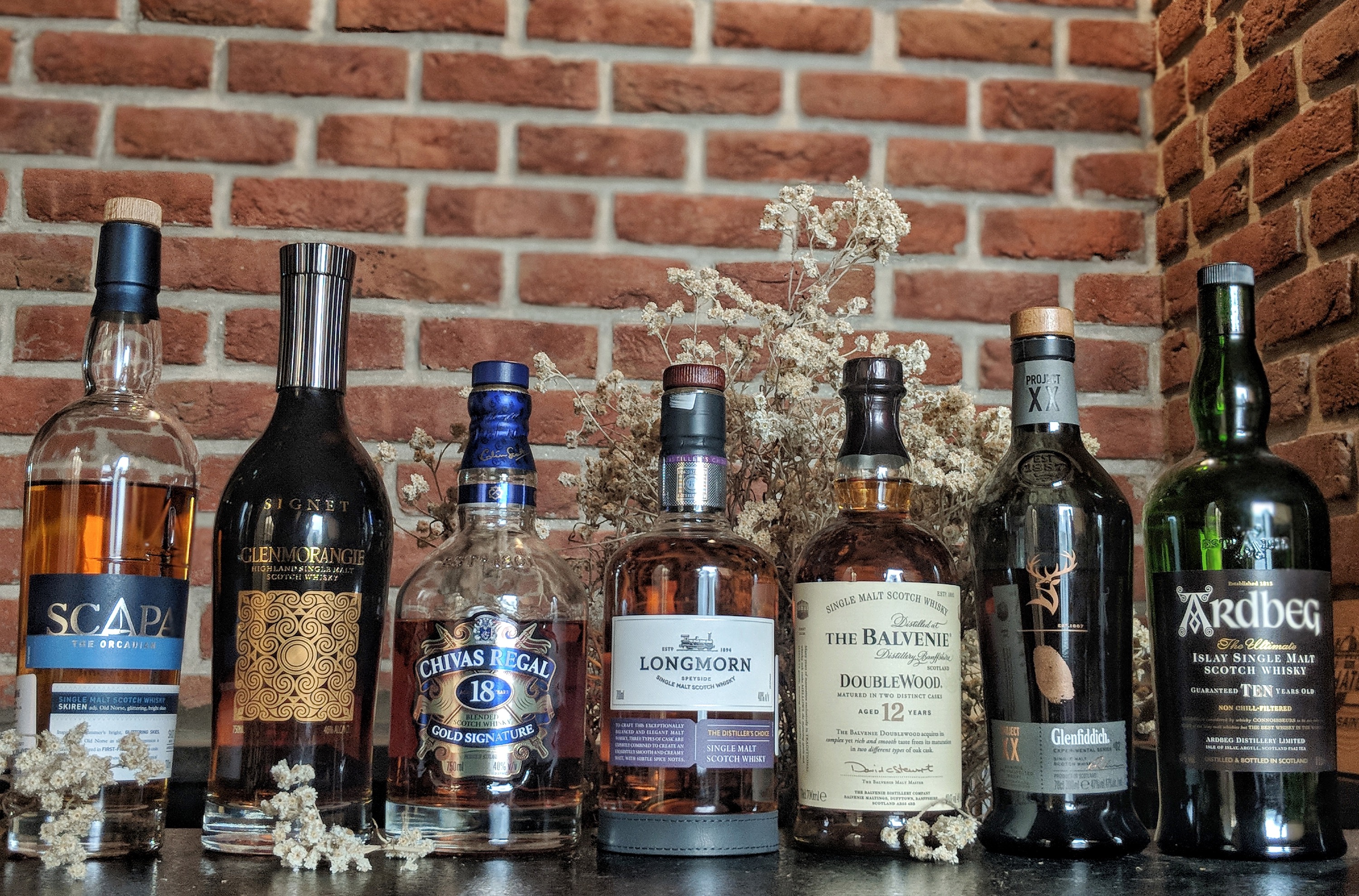 Glenfiddich Project XX: As part of the new Experimental Series, Glenfiddich launched Project XX (Project 20) which was created with inputs from their twenty brand ambassadors around the world. Their favourite Glenfiddich expressions were then married and matured. This has been available in India since Feb 2018. I enjoy the notes of toffee, warm vanilla, sweet apricot and cinnamon spice. Nice length on the finish and a damn good story. I did a full post on it earlier here.
Chivas Regal 18: Single malt snobs might roll their eyes but I am throwing this into the mix for (a) that is precisely the stereotypical mindset that I am all against and (b) this 18-year-old beauty can hold its own among the finest of malts. There should always be room for a blended whisky in any bar. The new Chivas 18 has lovely orange, toffee notes and hints of spice, freshness and smoke to round it off.
Ardbeg: Many erroneously believe that to be a true malt-head one must also adore peat but this strong iodine-laced inky-smokey flavour is not everyone's cup of tea. That said, for those who have come to enjoy this flavour of the 'devil's dirt', Ardbeg remains a lovely reference point to understand its flavours – managing fruit and earthiness in spite of all that toast. Full disclosure, I love my peat.
The Balvenie 12: I'm always partial to The Balvenie. I've always loved their malt style and each successive variant I taste enhances that. The flagship 12 year-old Doublewood is a great introduction to what they do. I've hosted a few tastings for The Balvenie in India and the 12 is so easy to take to, even for non-whisky drinkers.
PS: These are not the only whiskies I love. Not by a long shot. But these are some that are currently stocked in my home bar right up front and accessed frequently. That they're all Scotch is purely incidental.