Top wine haunts in Delhi + Gurgaon
It's bad enough that alcohol taxes in India sap us dry, it's worse that restaurants and hotels are allowed to charge five times the MRP of wines and beers. If there was ever a time to spruce up that home bar, this is it. But every now and again, everyone likes a night out with some fine wine as company. So here are 6 destinations in Delhi and Gurgaon where you can get your wine fix that won't leave you feeling like the victim of daylight robbery.
Wednesday Wine Social's at Taj Palace: The Taj Palace has an enviable wine list but like most 5 star hotels, it costs an arm and a leg. Which is why Wednesday's at Blue Bar come as such a welcome change. Every Wednesday a special list is made available with about 100 wines, which are available, by the glass at prices reduced by up to 50 percent. They range between Rs. 250 to Rs. 950 a glass.
A few that I think are a steal –Henri Bourgeois Sancerre (2012, France) Rs. 500/glass, St. Urban-Hof Riesling (2012, Germany) Rs. 500/glass and Clos du Val Cabernet Sauvignon (2004, USA) Rs. 300/glass.
Address: Sardar Patel Marg, Diplomatic Enclave, New Delhi
Perch: The city's first wine and coffee bar. This bright Khan market bar has a well-curated wine list that's due to change every few months. Currently it has 30 wines of which about 6 are available by the glass, priced at between Rs 350-400. Everything else you need to know about this new spot, you'll find here.
Address: 71, Khan Market, New Delhi
Wine Socials at ITC Sheraton: If wine to you is all about the people you meet and the conversations you share, head over to the Sheraton, Saket every last Saturday of the month. The wines change depending on sponsors or what the hotel would like to showcase, but there's always at least one red and one white wine. Sometimes there are even wine cocktails and sangria that make an appearance. Live music to balance the chatter and small bites from Pan Asian – all at an easy price of Rs. 1000 all inclusive.
Address: District Centre, Saket, New Delhi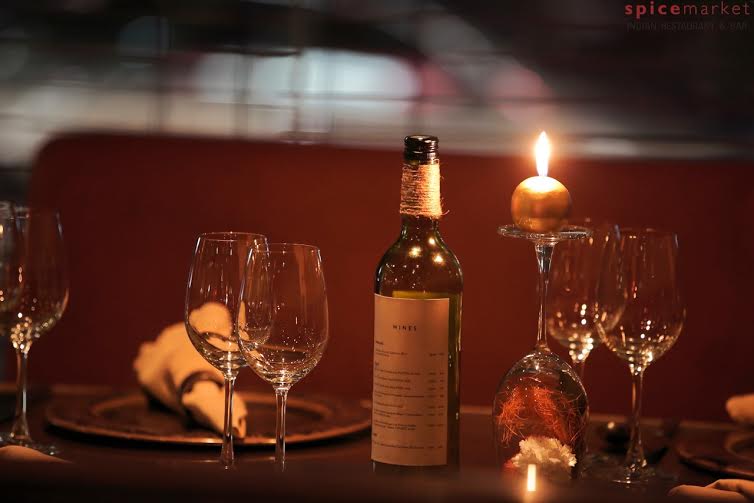 Gulati Spice Market: Yes, it's an unlikely wine destination by all accounts, but that's what I love about it. Besides, who said you can't enjoy butter chicken-naan-dal with a glass of wine? Sumit and Chiquita Gulati who run the restaurant are ardent wine lovers and wanted to create a list for people with a similar passion. Their wine list is limited, but has some unbeatable prices.
Try the Torres Viña Esmeralda Moscatel+Gewürztraminer (2013, Spain) Rs. 950/glass, Dr Loosen 'Dr L' Riesling (2013, Germany) Rs. 2600/bottle, Domaine Schlumberger Les Princes Abbés Gewürztraminer (2012, France) Rs. 3900/bottle, Joseph'Drouhin'La'Fôret'Pinot Noir (2011, France) Rs. 2800/bottle.
Address: Southern Park, Opposite Hotel Svelte, Saket, New Delhi
The Wine Company: In the same vein as wine bars across Europe, The Wine Company allows you to buy your bottle at their wine shop, which they will chill and serve to you at your table. Bottles are priced at about 20% above the MRP + taxes. A fair mark-up given the 200 labels they have on offer, spanning 50 grape varieties. If a bottle's too much, there are about 35 wines by glass beginning at Rs. 265 for an Indian wine up to Rs. 595 for Italian bubbly Prosecco. To make things sweeter, sangria comes at 1+1 during their Happy Hours from 4.30 to 6.30pm through the week, except Sunday.
Address: DLF Cyber City, Sector 24, Gurgaon
Wine Dinners at The Leela Ambience Gurgaon: What Indian hotels need are General Managers that love their wines, and are willing to fight and promote it (despite what marketing dictates). Michel Koopman is one such GM, and thanks to him The Leela Ambience hosts 18 top-notch wine events in a year. These 40-50 seater events are open to all, and cover a wide range – Super Tuscans, Australian, New Zealand, French, and Italian among others. Typically priced at around Rs. 3500 for premium wines and a lavish 5-course meal they're great value for money.
Address: Ambience Island, NH 8, Gurgaon