Sicily: A Continent of Wine
Earlier this year a group of journalists and industry men gathered in Mumbai for a Master class on Sicilian wines. The workshop, organised by Subhash Arora, President of the Indian Wine Academy, in association with the Sicilian Institute of Wine and Olive Oil (IRVOS) saw wine makers and representatives from 9 of the Italian island's biggest wine producers. During the detailed workshop hosted by Master of Wine Sarah Abbot, we were introduced to indigenous grape varieties and wine regions. To most it was the first step into seeing Sicily as an impressive wine destination, significantly different from any other in Italy.
In May I had the opportunity to visit  the picturesque island, learning about some of the significant wine regions, native grapes and two of the biggest Sicilian producers – Planeta Winery and Tasca d'Almerita.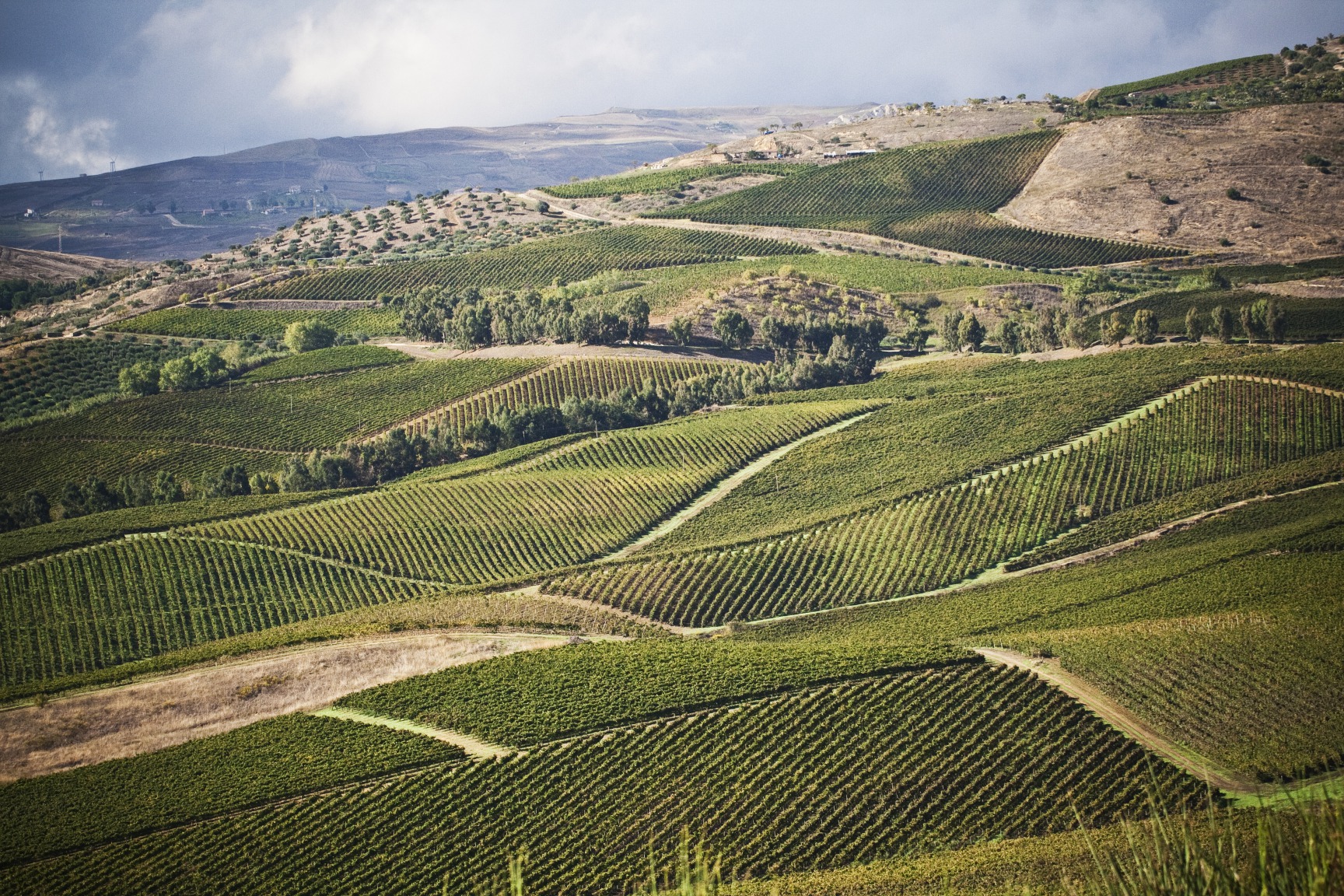 The Sicilian wine-scape:
On the map Sicily is just a tiny island at the tip of the boot-shaped Italy, but as any Sicilian will testify, it is a more a continent in itself not only because of the many different cultural influences it holds but also due to its incredible variety of climates and terroir.
Many major civilizations to have crossed the Mediterranean have passed through the island, each leaving behind a lasting impact. According to ancient texts, grape vines were first brought to Western Sicily by the Phoenicians. During the 3rd Century BC- 4th Century AD the Romans cultivated it widely on the island, a trend which continued with the Arabs, Greeks, English and Piemontese. Today approximately 119,000 hectares of Sicily is cultivated with vines, a vineyard holding twice the size of Tuscany and Piemonte and equal to Chile and South-Africa! Of this, 64 per cent are white varietals, and 36 per cent red. Sicily currently has 22 DOC regions and one DOCG, Cerasuolo di Vittoria.
IMPORTANT GRAPES IN SICILY
Catarratto is the most cultivated grape in Sicily and part of the composition of many white Sicilian wines. The wine is straw-yellow coloured with a tendency to gold with a good aromatic profile with fruity smells and floral notes; its taste is characterized by a strong presence of alcohol and a good structure.
Carricante is a historical vine from the Etna area where it has been cultivated since centuries. These grapes make a fine wine, straw-yellow colour with green tinges. Carricante wines are characterized with a fresh acidity and usually, high levels of alcohol with a good aromatic profile of sweet and floral smell of herbs.
Nerello Mascalese is an ancient vine of Etna, elegant with a notable tannin content. Pleasantly earthy and flowery, with hints of tobacco, it lends itself well to ageing.
Inzolia (Ansonica) is widely spread in the whole island, and is commonly blended with Catarratto. Well‐structured, with notes of almond and citrus.
Nero d'Avola is the king of Sicilian grapes, grown in most parts of the island. This grape is most reflective of the terroir it comes from, each adding its own distinction to the richness of the grape. Wines are intense ruby red colour, with fruity, floral and spicy aroma notes, very well-structured taste, tannic, full-bodied, balanced acidity and smoothness, and overall very harmonic.
Planeta Wines
Planeta was established in 1995. It is run by Diego Planeta and the younger generation – Alessio, Francesca and Santi Planeta.  In this family-run winery, the owners take active part in every aspect of  winemaking – from production to bottling and finally, marketing.  Diego Planeta has been a leading figure in the Sicilian wine industry for the last 40 years, being instrumental in the formation of a more organised industry.  Although Planeta has just 18 years of winemaking history, the family represents an agricultural heritage that goes back to the 1500s.
Today Planeta represents six different wine producing areas in Sicily – Ulmo at Sambuca di Sicilia, Dispensa at Menfi, Dorilli at Vittoria, Buonivini at Noto, Feudo di Mezzo at Etna in Castiglione di Sicilia, and finally, La Baronia at Capo Milazzo.
At Menfi, the Planeta Estate has a guest house called La Foresteria. With views of vineyards and lavender gardens, a beautiful swimming pool, and a highly qualified chef manning the kitchen, La Foresteria is a perfect place to unwind and experience Sicilian food and wine. About 20 minutes away is Ulmo, which is Planeta's first winery, surrounded by 93 hectares of vineyards.
Planeta's most recent winery of Feudo di Mezzo, is on the smoking Mt. Etna. The still active volcano has the distinction of being the first Sicilian wine region to obtain DOC denomination. Etna is a microcosm, characterized by sudden changes in temperature. The tabled vineyards flourish in a soil composed of volcanic lava ash. In keeping with Planeta's resolve to respect the surroundings, the Etna winery is built of Etna's black stone and glass resembling an old stone quarry – reinterpreting key elements in a modern way.  2012 was the winery's first vintage. Renovation is underway for the ancient winemaking structure already on the property. This will be restored to create a venue for public relations and hospitality. Planeta's Etna wines are characteristic of the region, with Carricante and Nerello Mascalese being the prominent grapes. The Eruzione 1614 series (two wines – 100% Carricante and 100% Nerello Mascalese) is particularly impressive. The name is an allusion to the infamous volcanic eruption of 1614 which lasted for 10 years.
There's an elegance, quiet strength and easy likeability to most of Planeta's wines, much like the owner, Diego Planeta himself.  A few labels are available in the Indian market, but if all goes as planned then we should see more shortly.
Tasca d'Almerita
The legacy of Tasca d'Almerita is of great repute not only in Sicily, but across the country. With an aristocratic heritage that goes back to 1830, this house has been making high quality wine for more than 100 years. The heart of Tasca d'Almerita lies in Regaleali, in the central part of Sicily. Here the estate extends over 1,230 acres of rolling hills and is one of the most beautiful I've seen. All this is owned by Count Lucio Tasca, a descendant of the original owners, who is supported by his sons Alberto and Giuseppe. The gorgeous 19th century stone villa at Regaleali is open to visitors for tasting and also stay. The rooms that line the inner circular courtyard are spacious, and equipped with all the modern-day comforts you could require. The kitchen will pamper you with a host of typical snacks, mostly made from products grown on the estate – cheese, vegetables, even meats – all to go with their delicious small batch production of olive oils. There is also a cooking school run by the count´s sister, Marchesa Anna Tasca Lanza, an accomplished chef, whose passion for Sicilian cuisine is infectious.
Over the past decade the winery has grown to include estates in other Sicilian regions including the Capofaro estate on the Aeolian island of Salina, blending hospitality with Malvasia wine production, the Tascante estate on Mount Etna, and a few other joint ventures. Tasca d'Almerita wines are exported to four continents.  The Rosso del Conte is one of Tasca d'Almerita's star wines. Made with Nero d'Avola from plants over 40 years old, this is a special reserve with an excellent ability to age. Leone d'Almerita (blend of Catarratto, Pinot bianco, Sauvignon, Traminer Aromatico) and Lamuri (Nero d'Avola) are their more easy-drinking wines, aimed at a young market, and also amongst their best selling.
(Story by Karina Aggarwal published in Spiritz Magazine, July 2013.)