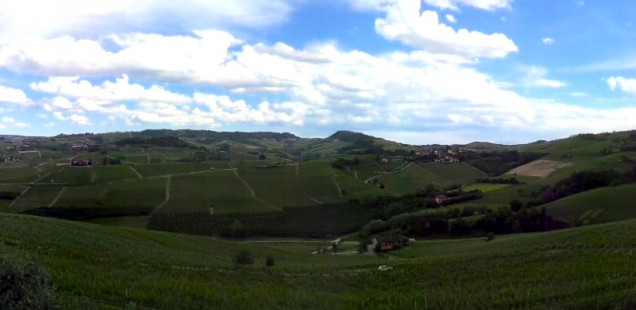 Nebbiolo Prima Musings
2014 was a big year for me, especially when it came to exploring wine regions. And my trip to the lovely city of Alba (famous for the truffles) in Northern Italy involved a tasting exercise like never before. I don't use the word 'exercise' lightly here. I mean it in its truest sense – a workout of the senses and the mind.
The reason I was in Alba was for the Nebbiolo Prima 2014. Every year the organisation Albeisa puts together a 5-day event for wine journalists from around the world to preview the wines from the region which will be released that year. 2014 was my first experience at the event. Every morning from  from May 12th to 16th, 90 journalists from 25 countries assembled in a stark white room at the Palazzo Mostre e Congressi in Alba to blind-taste 400 wines. Trust me when I say this – it is not an easy task!
I started out with many questions. Like 'How do you judge wines which, by every admission, need another decade to be 'ready'?' and 'How do you foresee their evolution?' and 'How do you battle palate fatigue?' I'm glad to say that as the days went by things fell into place and all my questions were answered. And though I had brief hysterical moments of 'No more Barolo', I was greedy to lap up all the learning I could. As my sommeliers poured glass after glass, I kept notes to understand the intricacies of the vintages that were presented to us – Barolo 2010, Barolo Riserva 2008, Barbaresco 2011, Barbaresco Riserva 2009, Roero 2011 and Roero Riserva 2010.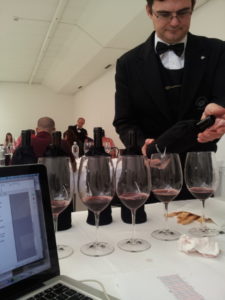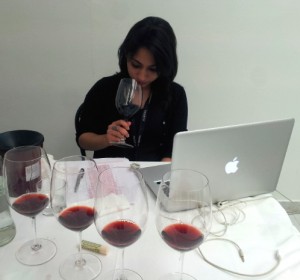 Before I go into the intricacies of the vintage, a little introduction:
What is Nebbiolo?
Native to the region of Piemonte in Northern Italy, the red-grape Nebbiolo is not one to be taken lightly. Winemakers say it is akin to a troubled child who needs just the right kind of care, and even then can be temperamental. That is possibly one reason why the kingdom of Nebbiolo hasn't strayed far from the hills of Langhe. The grape gets its name from 'nebbia' meaning fog, perhaps owing to the foggy conditions in which it must grow. Nebbiolo typically makes full-bodied wines that are high in acidity and  tannins, and often (of course depending on how it is made) has an incredible ability to age, for decades. As it matures it develops a beautiful bouquet characterised by notes of rose and tar. The most popular and prestigious representations of Nebbiolo are in the wines of Barolo, followed closely by Barbaresco and Roero.
BAROLO
100% Nebbiolo grape. By law a Barolo wine must be aged a minimum of 3 years, 18 months of which must be in oak. The term 'Riserva' is only applicable on the label when the wine has been aged for 5 years.
Barolo 2010 Review: Over the 5 days of Nebbiolo Prima I tasted over 150 expressions of the Barolo 2010. The weather in 2010 was mostly stable with cool nights and mild days in the months prior to harvest allowing optimal ripening. By all accounts 2010 was a great year for Barolo, and it certainly showed in the tasting. A majority of the wines showed sturdy tannins and layers of enriching aromas; generically speaking, the vintage showed great structure and promise. It will take a decade of cellaring to round off the tannins but there was an underlying elegance to a large portion of them. On day 2 we ventured into tasting Barolo from specific villages and there was a clear typicity apparent here: from the freshness of La Morra, the masculine and powerful Barolos from Monforte d'Alba and the softer Castiglione Falletto. Patience it was turns a good Barolo into a great one and if you're looking to stock up your cellar, 2010 is a safe bet.
Look out for the Barolos of Pio Cesare, Francone, Bartolo Mascarello, Vietti Brunate, Virna Borgogno 'Cannubi Boschis' and Marchesi di Barolo 'Sarmassa'.
Barolo Riserva 2008: Along with the release of the Barolo 2010 was the Barolo Riserva 2008. Climatically, 2008 was a lot like 2010 with a cooler growing season (a contrast from the early 2000s). Rich, dark fruit mingled with aromas of undergrowth and smoky wood,  softer (relatively speaking) tannins, fresh acidity and a lasting finish – the reserves are certainly developing nicely.
A few that stood out – Paolo Scavino 'Rocche Dell'Annunziata', Cascina del Monastero 'Riund' and Gagliasso Mario from La Morra. Conterno Franco 'Bussia Munie' from Monforte D'Alba.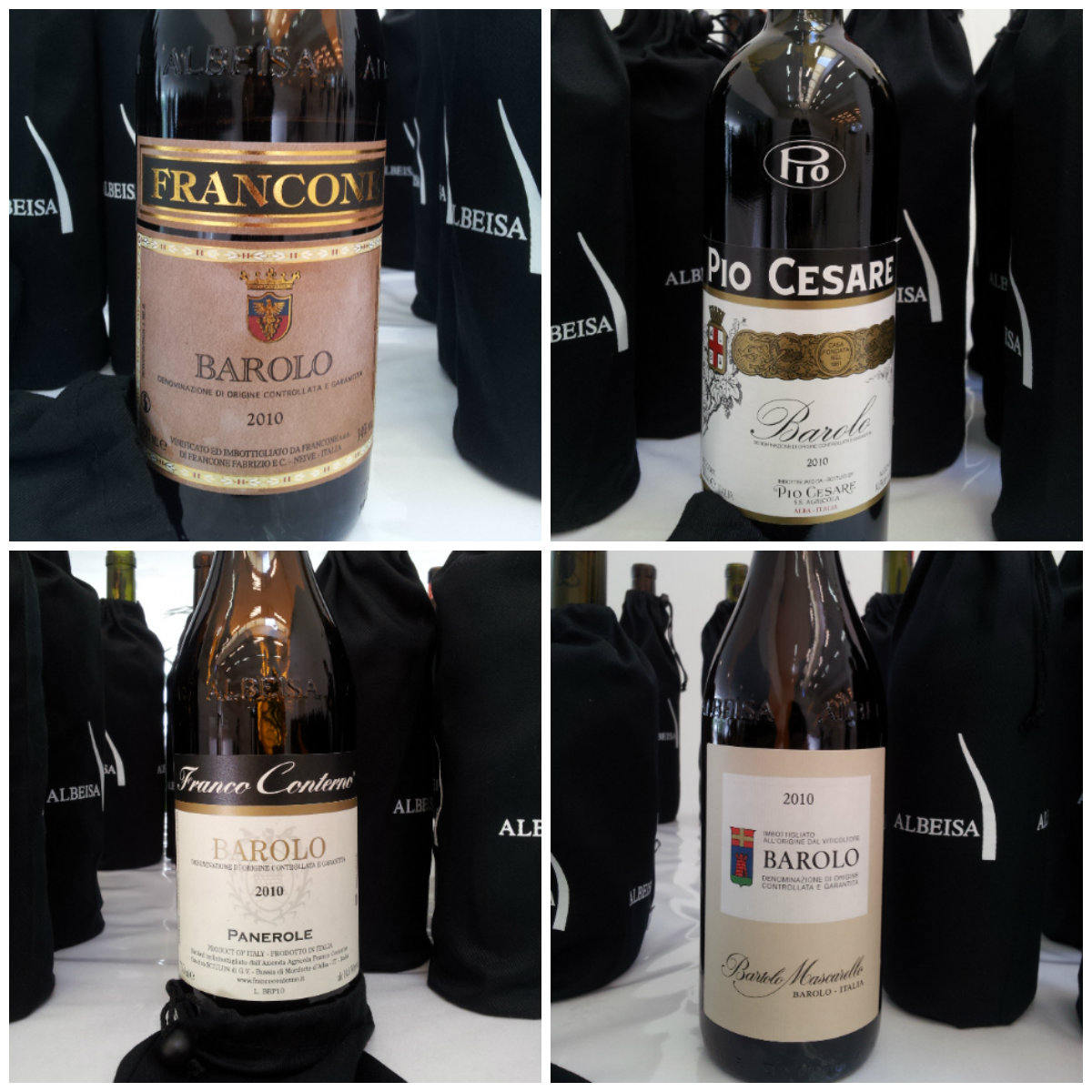 BARBARESCO
100% Nebbiolo grape. The 'more elegant and approachable' of the Nebbiolo wines, Barbaresco wines age for a minimum of 2 years, with at least 10 months in oak. Riserva applies to wines aged minimum 4 years.
Barbaresco 2011: After tasting about 60 Barolos at a stretch the thought of Barbaresco, usually considered the more friendly of the two wines lifted my spirits a bit. I imagined a respite for my gums and chapped lips from the strong Barolo tannins, but boy was I wrong! Far from being an ideal year, 2011 was a hot vintage for Barbaresco. It is in vintages like these where the winemaker's prowess and the winery's philosophy MAKE (or break) a wine. Understandably then the range of Barbaresco 2011 varied widely with only a few stand outs. Many of the wines were overwrought with bitter tannins from the oak, lifeless fruit and unbalanced alcohol. The few that caught my attention had managed to balance the ripe fruit with the oak and were held together neatly by the acidity-alcohol framework.
The good ones for me – Ceretto 'Asili', Michele Chiarlo 'Asili', Francesco Rinaldi, and Cascina Delle Rose 'Tre Stella'.
Barbaresco Riserva 2009: The fruit was more prominent on these wines, but again great variation in quality. A majority were characterised by herby aromas and a bitter oak finish.
I liked the Rivetti Massimo 'Serraboella'.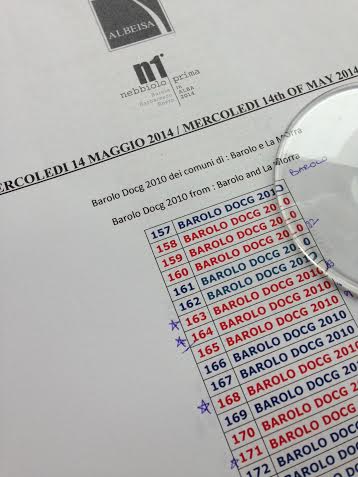 ROERO
Roero 2011: If I thought the Barbaresco line-up was an uphill climb, then Roero had me feeling like Sisyphus (you know the Greek myth of the guy pushing the boulder up a hill?). Until this point I had only ever tasted one Roero (of a vintage I cannot recall) and the 2011 wines showed little to be impressed by. Though there were only about 15 that I tasted, it was difficult to get an idea of a characteristic Roero.
Roero Riserva 2010: Fortunately the Roero Riserva showed much better. More lush fruit and vibrance on the palate with mellowed tannins and balanced oak.
Top wines – Matteo Correggia 'Roche d'Ampsej', Angelo Negro e Figli 'Sudisfa'.