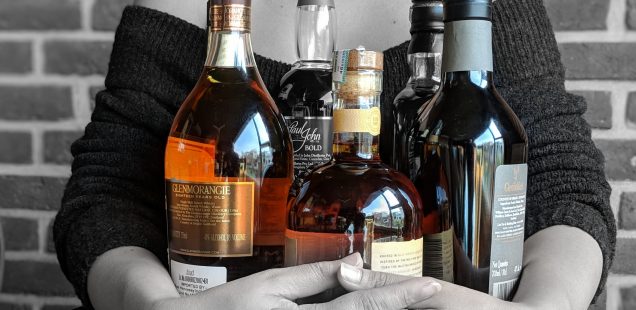 TOP PICKS FOR YOUR WHISKY SHELF #INTERNATIONALWHISKYDAY
For International Whisky Day, I've done the research (hic!) and picked a range of whiskies to stock your home bar with. From the fun to the fancy, the pocket-friendly to the precious, the casual to the complex – there's a bit of everything.
The one caveat for this list was – AVAILABILITY. A lot of readers have a problem with that and as for options that can be picked up at a nearby retail store. So, here they are! If you've tried these before (some usual suspects included) or this makes you want to pick up a bottle leave me a message on Instagram, Facebook or a comment below and let me know.
Paul John Bold: I'm so proud that we have quality, award-winning single malt out of India! Paul John is an Indian single malt brand that's hugely successful, even internationally and has been raking in the awards. The Bold is their peated version. Peat is formed from plant decay over thousands of years. Large parts of Scotland are covered in it. And the grain for making whisky is dried over peat fires, it imparts a smoky flavour that translates to the whisky. The Bold uses peat from Islay in Scotland, and is aged in ex-bourbon barrels. This is a good introduction to a peated style whisky – pleasantly smoky balanced with lots of rich honeyed notes. A must-have in your bar to show off to all those NRI cousins.
Delhi: Rs.4500, Mumbai: Rs.5000, Bangalore: Rs.3272, Chandigarh, Rajasthan, Pune, Maharashtra, Gujarat, Daman & Diu, Telangana, Assam, Meghalaya, Goa, Puducherry.
Singleton of Glendullan: The Singleton is a Scotch whisky that is made in three different distilleries. What's been available until now in India was The Singleton Glen d'Or. Now there's a brand-new launch – The Singleton of Glendullan. This is a delicate, versatile, and a crowd-pleaser of a single malt. It's also quite attractively priced. Considering our taxes, a quality 12yo single malt Scotch at Rs.4800 in Delhi, is a good deal. Try this one and if you enjoy it keep an eye out for 15- and 18-year-old expressions, coming soon to our shores.
Delhi: Rs.4800, Mumbai: Rs.7250, Haryana, Bangalore, Rajasthan, Chandigarh, Punjab, AP, Telangana, Goa, West Bengal.
Jameson Caskmates: Jameson + Craft beer stout casks = Jameson Caskmates. The Irish know how to have fun and everything about Jameson seems to symbolise that. A cool brand at a great price – it's a no-brainer really!
Delhi:Rs.2700, Mumbai: Rs.4200, Bangalore, Goa, Chandigarh and a bunch of cities.
Glenfiddich Project XX: So my favourite thing about this malt is the story behind it. If you've watched the video, you'll know. It's part of the 'Experimental Series' from the Glenfiddich Distillery in Scotland and so is simultaneously trendy but familiar. One that your friends will lap up and the connoisseurs will appreciate. I wrote a detailed review on Project XX (Project Twenty) the first time I tasted it. You'll find the tasting notes – HERE.
Delhi: Rs.8600, Mumbai: Rs.13,500, Goa and Bangalore.
Monkey Shoulder: Despite all the single malt snobbery going around nowadays, EVERY bar needs a blended malt. There are a bunch of traditional and premium blended whiskies available in India but the one I've chosen is this trendy, fun one. The quirky name is reference to a condition that the malt workers sometimes picked up while turning the barley by hand. Due to the long shifts their arms had the tendency to hang down a bit like a monkey's. Hence the phrase 'monkey shoulder'. The blend is of three malt whiskies from Soctland's Speyside region. It has been the 'most trending whisky' for 5 years in a row and works really well in a cocktail but also so easy to drink straight.
Delhi: Rs.4000, Mumbai: Rs.5800, Bangalore: Rs.5500, Goa.
Glenmorangie 18 year-old: Although I'm not one to harp on about age-statements and single malts, but there is an elegance that sometimes only age can bring. This Glenmorangie 18 year-old is testament to that (Silver for Best 18 YO Scotch at the International Whisky Competition) Matured in ex-Bourbon casks for 15 years after which a portion is finished in Oloroso sherry casks for another three years. A rich and complex dram with tropical and dried fruits, and a gentle floral note.
Delhi: Rs.13,670, Mumbai: Rs.23,805.
Why no American or Japanese whiskies, you ask? The answer's in the video so don't @ me.
Happy International Whisky Day. Today and everyday. I feel like I must follow that up with Drink Responsibly. Cheers!