The Ultimate Boozy Holiday Gift Guide
It's that time of the year when diets go bust, binge-drinking passes as socialising, and Michael Bublé becomes relevant again. It's also the time for gift-giving and receiving. I've scouted (I mean really dug deep) to create the ultimate tippler's gift guide for the holidays. Some of these are available in India, a lot of them aren't, but it's always good to have options when that doting-spinster-'phoren-walli'-aunty asks what she can get you for Christmas.
Grown-up Candy
The Smith & Sinclair's Eat Your Drink pop-up at Benefit's Carnaby Street shop is perhaps the world's first edible alcohol shop. It debuted on November 18th and will stay open until Christmas Day. The store has a whole range of popular childhood treats with an 'adult-only' twist. Think cocktail-candy floss, whisky fruit pastilles, gin jellies and tequila lollipops. A bag of these will make sure you have a very merry Xmas indeed.
Scratch and Sniff Guides
The Scratch and Sniff guides are a fun way to acquaint yourself with the basics of tasting. It's filled with humorous illustrations and a whole lot of scratch and sniff scents like grass, vanilla, sandalwood… stuff that'll help you figure out those tricky tasting notes.
Price: The Essential Scratch & Sniff Guide to Becoming a Wine Expert Rs 997, The Essential Scratch & Sniff Guide to Becoming a Whiskey Know-It-All Rs 1098

Heady Advent Calendars
Swap the regular advent calendar with a seriously boozy one. Instead of picking out the usual Christmas baubles, you get to pick out a new dram everyday. Hallelujah! Drinks by the Dram and Master of Malt have created different versions – whisky, gin, rum, vodka, cognac, tequila, absinthe even – pick one depending on how 'festive' you'd like the season to be. The most spirited Christmas countdown by far!
Price: £83 upwards
Ice Wedges, Spheres and Cubes
Whisky drinkers know the merits of drinking their drams over ice spheres or giant cubes. There are quite a few options out there ranging from plastic to silicon moulds. Try these, these, these, or these on Amazon India. The latest trend however is the Whiskey Wedge like this one.
P.S. – whisky rocks are so 2014!
Price: Rs 800 upwards
Distilled Tasting Set
My friend Neil Ridley in partnership with Drinks By The Dram and Master of Malt has created a special Distilled Tasting Set that's debuted just in time for the holidays. It features his (co-written) award winning book and samples of five great spirits carefully selected from around the world. Armagnac, mezcal, pisco….learn and taste them all from the comfort of your living room.
Price: £35
Breathalyzer Keychains
I'm not sure how useful these will be but it's certainly fun and interesting to have one just incase. There are a bunch available on Amazon here, but the most reliable seems to be this one .
Price: Ranging from $5 to $20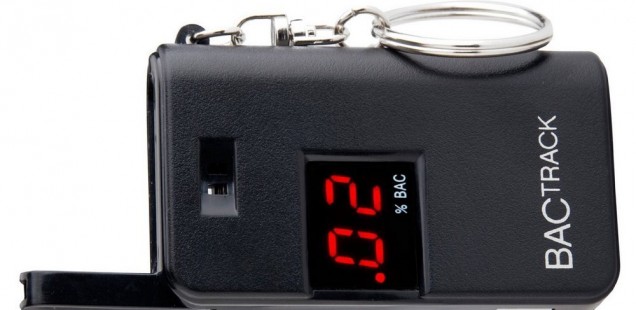 The Drinking Jacket
Zane Lampery is quite the celebrity in the beverage world, and is almost always seen with a beer in hand. He was the perfect candidate to create The Drinking Jacket. The nifty hoodie has a bottle opener zipper, a neoprene-lined bottle holder pocket, anti-slip glove cuffs, some hidden pockets and even a holder for your sunglasses.
Price: $85
DIY distiller
If you don't want to seem like a complete lout, work for that Xmas spirit by making your own spirit. (That was the last bad pun, I promise) This tabletop moonshine distiller is nifty, easy to use, and comes with a set of instructions. One distillation should give you slightly less that 2 litres of spirit so it's worth the effort. If you want to be hardcore about it then there's a 10 gallon (37 litre) portable pot still here. Making moonshine at home is illegal of course, but ummm so are the kebabs in my freezer. Acche din!