Say hello to KRSMA WINES
A new winery is all set to enter the Indian wine market – Krsma Estates. Owned by Krishna and Uma Chigurupati, the winery is based about 70 kms out of Hampi, near Hospet reservoir. A long-cherished dream of the Hyderabad-based couple, they have tended three harvests  so far at their state-of-the-art 80,000 litre-capacity winery, but the first of their wines will only be available on shelves in another few months.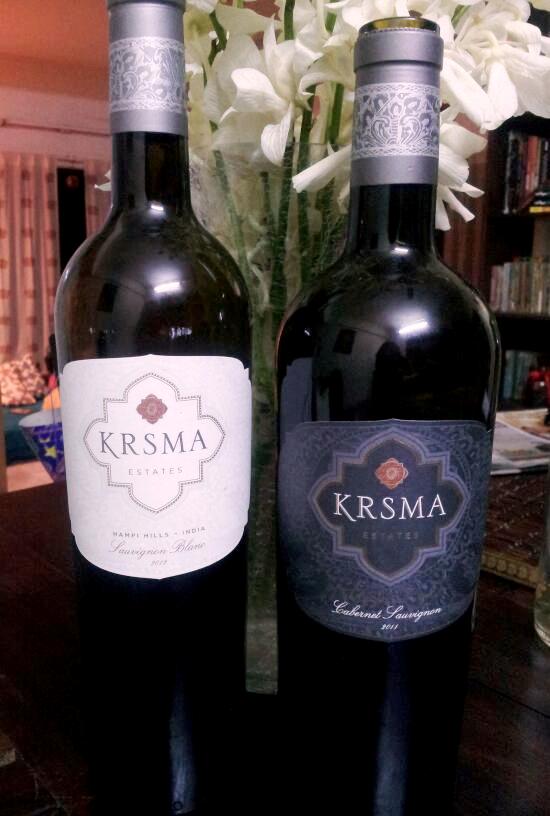 Last week I had a chance to taste Krsma's Cabernet Sauvignon 2011 and Sauvignon Blanc 2012 thanks to Sommelier Magandeep Singh. Although an impromptu session, it had the ideal audience – a wine marketer, a young wine maker and a couple of wine connoisseurs. For most it was the first taste of wine out of Hampi, and either stemming from surprise or admiration, the group was all praise. The Cab Sauv especially was beautifully balanced and would be hard to pick as an 'Indian wine' in any blind tasting.
Part Krishna and part Uma – KRSMA makes it evident that the Chigurupati's have ensured that everything, from the grapes to the bottles and labels, is done right. The wines will most likely sell at a super-premium price. While they may be well worth it, I don't see  Indian wine drinkers paying over Rs. 1000 for an Indian wine yet.
Tasting notes by Magandeep Singh on their earlier vintages: (Read his article on Krsma Estates here)
Sauvignon Blanc 2010: Most unusual SB, this one has an almost lively pink tinge. It's barely there yet against a white background, can be seen, and nobody knows how it came about. The nose is aromatic, some pear drops, and minty toffee. The acidity is rife, juicy too, but never green or aggressive. The finish has grip that shows SB character. Upon aeration the wine showed more typicity, which is amazing for a young-vine SB.
Cabernet Sauvignon 2010: Very Bordeaux (tight, grippy, astringent yet elegant tannins – possible whole-bunch ferment –with a held-back fruit) and shows good CS typicity. No Volatile Acidity which is great for a wine that was made in open tanks. Peppery and spiced, good violet and cassis fruit, great balance and complexity on the end. Quite a revelation!
Cabernet Sauvignon 2011: Encased in a heavy Sommelier-style bottle (wide shoulders and a tapering bottom), this showed rich creamy fruit (with cream), mellow already, with some lovely sweet oak that lingered through to finish. The tannins were gentle and the wine managed to be expressive without being jammy. A shift in winemaking philosophy is apparent with an obvious preference for fruitier yet structured wines.