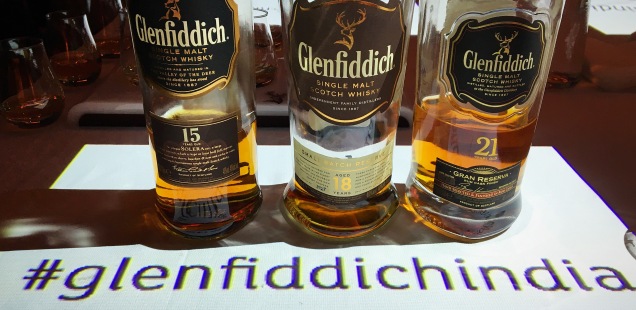 Whisky Tasting in 3D
Truth be told I'm slightly bored of typical wine and whisky tastings. I've sat through more than my fair share. It's usually the same information being thrown at you every time. So when I saw that famous Scotch brand Glenfiddich was mixing things up a bit it piqued my interest.
Recently I participated in their '3D tasting'. Once you take your spot the show begins, projecting elements of the whisky on to the tasting table while you sip the corresponding dram. It's a quick visual description of either how the whisky is made or the flavours it is characterised by.
As I sipped my 15-year old Glenfiddich I saw animations of cinnamon, ginger and marzipan thrown into the Solera vat, signifying the process in which this particular single malt is made. It isn't a literal description of course and so it helps to have an expert lead you through it to put things in context.
This table was set up at GQ's celebration of the 50 Influential Young Indians, and Glenfiddich pulled out the big guns – expressions of the 15, 18 and 21-year olds, apart from the 12. If you haven't had a chance to taste the 21 yet, it's finished in Caribbean rum casks to release notes of toffee, banana, ginger spice and a hint of lime zest. An interesting malt by all accounts but the 15 remains my favourite among Glenfiddich India's fold…so far.
I was told that the 3D Projection was first introduced in December 2015 and Glenfiddich India plans to do more such tastings over the course of the year. This is one to watch out for.