The Best Trimmings from Beerosphere
The Beer Cafe has become the most reliable place in any city to get a whole range of brews. Now, Rahul Singh has extended the brand to Beerosphere – a range of quirky beer and bar merchandise. There's a whole bunch of stuff they've assembled – cooling coasters, laptop sleeves, even beery cushion covers, all available at Beerosphere.com.  You can also buy items from Beer Café stores at Supermart (Gurgaon), DLF Cyberhub (Gurgaon), DLF Promenade (Vasant Kunj), Churchgate (Mumbai).
Before you go exploring here are few that caught my attention.
Hoptical Illusion
I've loved these glasses ever since I saw them at a bar in Lisbon 4 years ago. Beerosphere has them priced at Rs 790 a glass which isn't bad considering I've never found any for under 18 euros.
Thor's Beer Mug
If, like me, you like to collect beer glassware then this is a fun novelty to have on the shelf. Price: Rs 1,350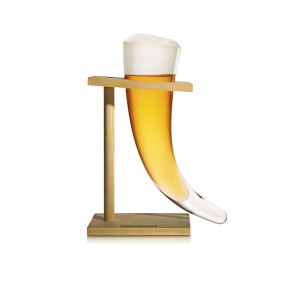 Bottle Cap Collector
I'm a serial collector (read: hoarder) and until now a couple of spare socks held my precious beer cap collection. Now most of them are on display. Each mould holds 45. It's a little tedious to beat each crown into shape and wedge them in but quite worth it in the end. Mine filled up quick. I need to order a couple more of these. Price: Rs 295
Spin Chill
A bucket of ice water, beer, and the Spin ChillI tried it with beer and still white wine. Works like a charm. A pint of beer, took about 2-3 mins to get to a good drinking temperature.The wine, 5 mins. Chilling a few pints with the Spin Chill requires some patience but it's perfect for an inexpensive bottle of wine. Price: Rs 2,990.
(Disclaimer: No Bordeaux were harmed in this experiment)