Know your mixologist: Nicci Stringfellow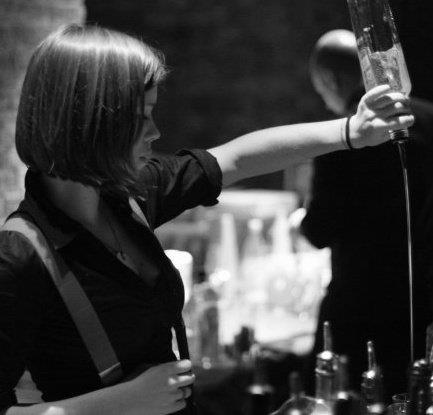 Nicci has been based in Mumbai for the last four months. She is a consultant mixologist for KA hospitality, handling the bar both at Hakkasan and Yauatcha. She's even working on KA's latest project, the Mediterranean themed Otto Infinito which will open in BKC later this month. Here's a quirky one-on-one with the woman behind the bar.
The beginnings…
I think like many bartenders, the bar found me. I started working in the Hard Rock Café in Lisbon just to make some cash and fell in love with it.
Favourite thing about working at the bar…
I laugh every single day. No matter how bad my mood before I start, I always come out smiling, even on the hard shifts. I don't think you can say that about many jobs.
Least favourite…
I suppose the unsociable hours and having to work every holiday. You miss out on a lot of things. That, and cleaning the gunk out of the glasswasher!
If you weren't bartending, you'd be…
Sitting and drinking on the other side.
What's a mixologist's fantasy?
Every customer being patient and appreciative. And Brad Pitt making me a perfect Mai Tai on the beach in Rio.
One drink you'd like to NEVER mix again…
Blended drinks! They annoy the hell out of me.
Most unusual drink request ever received…
A virgin daiquiri – blended. I mean, really?!
What more people should understand about bartending.
From the customer's perspective: It's more than just pulling pints, we take a lot of time to learn about what we do and take pride in the drinks we make.
From the bartender's perspective: It's more than just making drinks. Service is, if anything, more important.
Male vs female mixologists…
We can multitask and we have boobs, what more do I need to say?

The worst thing you've seen someone do in a bar?
I was working a festival bar in the UK last summer. It was 5 deep at the bar, the tent was just heaving. I went to pick up my shaker and found that it was full of warm liquid. Some guy had taken it off the bar, relieved himself and put it back! A low point…
A superpower you'd want…
Mind reading. Then I could guarantee to make every customer exactly what they wanted. Wouldn't mind that skill outside the bar too.
Check out Nicci's favourite drink – The Reggaeton here.
More on Nicci
Nicci started bar tending in the Hard Rock Cafe in Lisbon in 2007, but it wasn't until moving to London that she really started to take it seriously. Finding a fantastic mentor in a little South American bar in North London inspired her to take mixing drinks more seriously. From here she moved to the Match group where she worked with some industry greats and trained under the legendary Dale DeGroff (author of The Craft of the Cocktail).
A year studying in Tokyo took her away from cocktails for a while but a stint at the world famous LAB in Soho on her return to London got me back in the mix. After a winter season in Hokkaido opening the beautiful and quirky Big Foot Lodge, she moved to Mumbai where she now works as a consultant for KA hospitality at Hakkasan, Yauatcha and Otto Infinito.