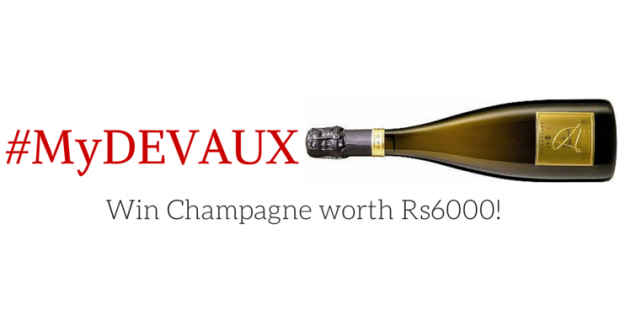 Contest Alert: #MyDevaux Champagne
I'm not one for diamonds and chocolate but Champagne I can rarely say no to.
Champagne has been in the news a lot over the last few days. The region was recently confirmed as a UNESCO World Heritage Site. Now that's a biggie!
So to spread the love, here's a chance to get your hands on a bottle and celebrate along with #winelovers around the world. But this isn't just any Champagne. DEVAUX is a famous producer of the French bubbly, and has just made its way to Indian shores.
Devaux (pronounced the-voe) brings with it everything that I love about the world's favourite fizz. It is chic, elegant and has enough complexity to keep you hooked. The boutique house was founded in 1846 and has been making premium Champagne ever since. There are three variants that are being imported now – Cuvée D, D Rosé, and Ultra Brut (extra dry).
We're giving away a bottle of their flagship Cuvée D and here are a few things that make this wine special. Of the 3 grapes allowed in the Champagne appellation, Devaux uses only 2 – Pinot Noir and Chardonnay (Pinot Meunier is the third). At 8gms/l of residual sugar it is on the drier side of Brut, which means that you don't have to feel too guilty about the extra calories. Finally, one of the most interesting things about Cuvée D is its maturation process. While most Champagnes spend a little over a year ageing with the yeast before they are disgorged, the Cuvée D is aged so for 5 years! This makes the wine more complex with lovely biscuit-y, toasty notes, and yet it is wonderfully fresh and vibrant. A versatile wine, it works brilliantly as an aperitif but also pairs well with most cuisines. The Devaux Cuvée D Brut is priced at Rs 6,010 in Delhi.
To know more visit their website HERE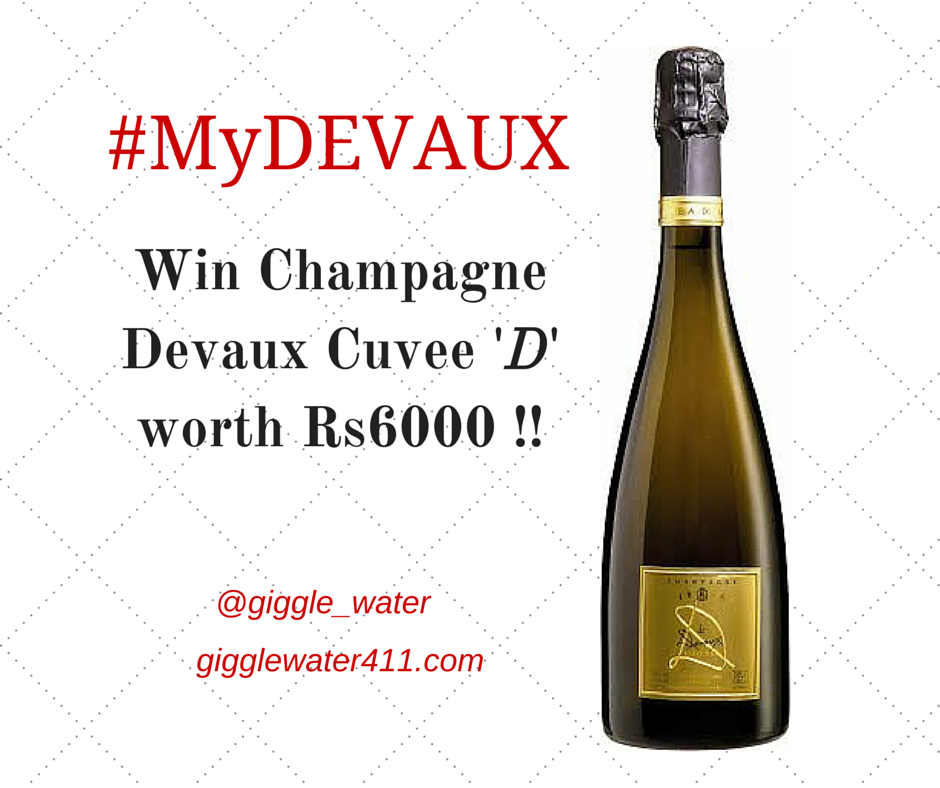 Answer 2 simple questions to win a Devaux Cuvée D:
1. After how long is Champagne Devaux Cuvée D disgorged?
2. Champagne Devaux will be perfect for ……   (make this one up yourself)
The Finer Points:
– Use the hash tag #MyDevaux in your Facebook and Twitter responses to be valid.
– Leave your answers in the comments under this post, or on the Gigglewater411 FB, or twitter pages. Answers under 10 words have a significantly higher chance of being read. (DON'T forget #MyDevaux)
– Track the #MyDevaux contest on Gigglewater's Facebook – HERE and Twitter – HERE
– The contest is open to residents of Mumbai, Delhi, Gurgaon, and Noida only. (Loophole: If you have a delivery address in any of these cities but don't actually live there, we can work something out!)
– You must be above 25 years to participate. Sorry, kids.