4 Gems on my Gin Shelf
You've probably guessed by now that I have a soft spot for gin. I've already given you a Gin101 of sorts in The Gin Diaries explaining juniper, botanicals and the styles of gin. So on #WorldGinDay, here's a little peek at the bottles that currently hold pride of place in my bar. A few gems that you should definitely consider bringing back from your next international trip.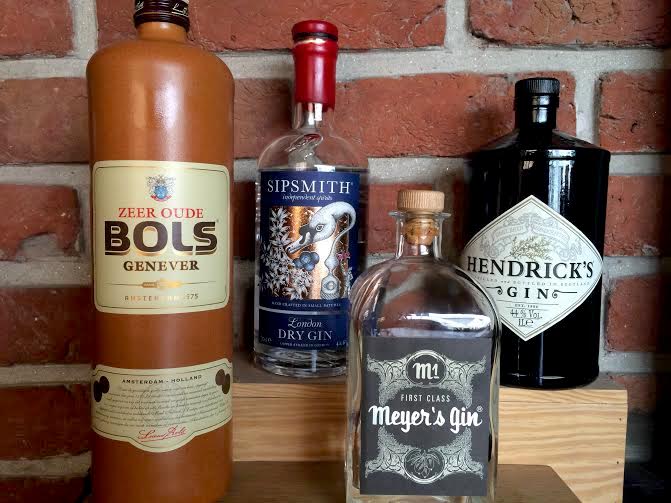 Hendrick's, Scotland
Among the brands available in India, Hendrick's is by far my favourite. With Bulgarian rose and cucumber as its main botanicals, Hendrick's makes for a great pick-me-up after a long work day, or on Sunday afternoons, or on any afternoon for that matter. Price: appx £28
Website: https://us.hendricksgin.com/
Meyer's Gin M1, Belgium
I was given this bottle last year during CMB by a fellow jury member Tim Veys (@DeWijnmakelaar ) and it's become one of my favourites. I think the packaging is ace too! Tim along with Christophe Demeyer created Meyer's in 2014 in Belgium. A boutique gin, Meyer's key ingredient is a little fruit known as 'Hardy kiwi' or 'kiwi berry' which looks a little like a grape and tastes like a ripe kiwi. This fruit is native to Japan, Korea, Northern China and Russian Siberia. It has been cultivated in Belgium since 2008 and the first big harvest was in spring 2013, which prompted the idea of using it in a gin as the primary (of 12) botanical.  The aromas are very fresh and on the palate it is soft, smooth and quite herby with an almost anise-like aftertaste. It is one of the few gins I prefer having without tonic. I'm almost out so I need to get my hands on another one soon. Price: appx £29
Website: http://www.meyersgin.be/
Bols Zeer Oude Genever, Amsterdam
On a recent trip to Netherlands, the hometown of genever (the precursor to English gins and the inspiration behind the phrase 'Dutch Courage'), I wanted to pick up something traditional and unusual to bring home with me. Bols is a very famous and established Dutch brand dating back to 1575. I had never seen this particular before and I loved that it is entirely ceramic. Oude meaning 'old' does not signify age but rather a traditional old style of production which uses a small percentage of malt wine along with juniper and other aromatic botanicals. This one's not for the average gin drinker. On the nose it can be quite an assault with powerful alcohol notes followed by slightly oxidative nuttiness. On the palate though is it quite different – pillowy soft in texture but with notes of bitter nuts and wood at the finish. Price: appx £28
Website: http://www.bols.com/
Sipsmith London Dry Gin, London
The latest addition to my gin collection, this was a gift from London. A very well regarded gin, this one is a classic London Dry. It has a strongly citrus and pungent nose, while on the palate it is earthy, spicy with a long finish. Sipsmith is bold, rich and makes no apologies for it. Price: appx £29
Website: http://www.sipsmith.com/
I'm always looking to grow the collection. My current wish list includes the Belgian gin – Copperhead London Dry and the German – Monkey 47.
What gin do you like to drink? If you have a favourite that you think I should add to my home bar, leave me a comment to let me know. Cheers!