Revisiting the Concours Mondial de Bruxelles
This year marked my second appearance at the reputed international wine competition – Concours Mondial de Bruxelles. (Read all about the jitters I felt and my experience at the 2013 edition here and here)
One of the largest competitions of its kind, every year the CMB invites over 300 judges from 80 nationalities to judge wines from all over the world. The 2014 edition held in Brussels in May, marked the 20th anniversary of CMB. 8,060 wines, 310 judges, and 3 days later, the competition came to a close.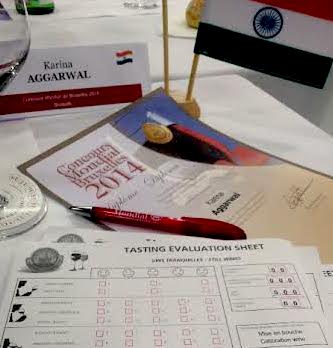 It may sound like a glamorous job to be part of this esteemed jury, but believe me when I say it is not an easy task. For one, it is a test for the senses – sight, smell, and taste, all required to be functioning at their heightened best. Sitting at a table for 5 hours at a stretch, tasting and spitting continuously also tests your concentration. Beyond that are the stained teeth, the chapped lips and the fatigued palate, a stage where you don't wish to see, smell, or taste wine in any form.
The competition is also a test of the senses for, the team behind the Concours Mondial de Bruxelles tests its judges by sometimes slipping in the same wine twice in the same flight. If the judge's marking is consistent – i.e. s/he gives the wines similar marks each time – then they are closer to be invited next year. Discrepancies would signal an unformed palate, or an inexperienced taster, either of which is not the kind the organisers would want making authoritative calls at such a prestigious competition. This also helps establish the credentials of the competition.
Don't get me wrong, I'm not complaining. Far from it in fact. The wealth of experience and learning I've taken away from the competition in the last two years is unparalleled. Add to that the feeling of satisfaction, and exhilaration when you taste a wine worthy of a gold medal, even if it took you 53 sub-par ones to find it!
If there's one thing I've learnt over the last few years it is that few survive in the wine world without a passion to see them through. The rigour it expects, and the constant study it demands will tire out anyone else who is not there with the right motivations.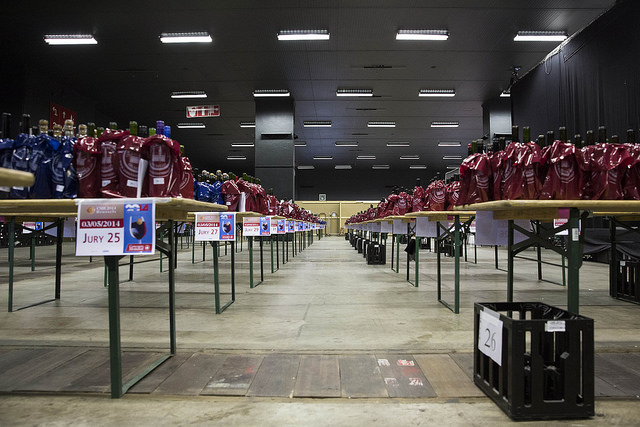 As far as the judging goes, I'm often asked by friends if it is really possible to taste a wine after the seventh, or tenth, or twentieth, and sometimes I've wondered myself. The truth is that it is indeed very hard to tell wines which are all young vintages and from the same grape and/or region. Then there are those that we call the safe bets, the kind that check every technical box on the list – acidity, tannins, colour – but somehow never come together completely. There's just that little something missing, the same je-ne-sais-quoi that differentiates the good wines from the great wines.
Most important though, it is virtually impossible to hide a great wine and no mater how similar the elements in a given flight, such wines manage to stand out, to outshine even when presented in an intimidating-ly lengthy line-up. Add to this the safety net that each wine is being tasted by not just one but at least 5 tasters in a panel (and that the same wines may be presented during the competition to another panel to judge as well), the anomalies tend to diminish. Once the marks are tabulated, the winning wines in each category are revealed and marked as Silver, Gold and Great Gold. These wines are then entitled to carry the Concours Mondial de Bruxelles stickers on them for the duration of a year.
But do these winning stickers really help? I'd say so. In the vast world of wine, it is impossible for even a seasoned wine professional to know every brand and every label. For a consumer, one who enjoys wine, but doesn't necessarily study it, strolling through the wine section of any liquor store (a few such exist now in India too) can be quite daunting. With the plethora of choice available one may often find themselves staring at a colourful wall with little to guide them in their decision. You could check the labels online and find a trustworthy rating but if you lack the access or the inclination to do that it really just comes down to trying your luck. In such a case the best bet would be to go with a bottle that has a winning label on it, a sticker that endorses the wine's merit as adjudged at a competition and with a competition as meticulous as the Concours Mondial, it does carry precious weight, assuring, to an extent, a certain level of not just quality but in fact, excellence.
And that is an important reason why year after year the CMB gathers sommeliers, wine buyers, importers, journalists and wine writers to taste wines blind, without any prejudice and help in providing consumers with a reliable buying cue. It is a big responsibility and that explains why the Concours Mondial de Bruxelles has had 20 successful years. As for me, I'll be looking forward to having a third anniversary there next year.
The 2015 Concours Mondial de Bruxelles will be held on 1, 2 and 3 May in Jesolo, Italy.
The 2014 Medalists
The 2014 edition awarded a total of 2,330 medals, less than 1% of which were Grand Gold Medals. France retained its leadership position in the prestigious Grand Gold category, winning 17 of them, followed closely by Portugal with 16 and Spain with 14.  Five wines were awarded the 'Best Wine Trophy' for the highest score in their category:
Best Sparkling: Champagne Charles Heidsieck Brut 2000 (France)
Best White: Quinta da Herdade Escolha 2013 Vinho Verde (Portugal)
Best Rosé: Escapades Pinotage Rosé 2013 – Coastal Region (South Africa)
Best Red: Château Saint-Lô 2011 Saint-Emilion Grand Cru (France)
Best Sweet: Porto Cruz Colheita 1985 (Portugal)
A few other special awards:
Best Cava: Cava Arboç 1919 Brut (Catalonia)
Best Spanish wine: Pago de Cirsus Cuvée Especial 2010- Navarra
Best Italian Wine: Stemmari Nero d'Avola Sicilia DOC
Best Chilean Wine: Leyenda del Toqui 2009 – Valle de Cachapoal
Best South African Wine: Rust en Vrede 1694 Classification 2011 – Stellenbosch
(This article was originally published in Liquid magazine. Words by @Karina Aggarwal)