What are you doing this Negroni Week?
If you asked me for a list of my top 5 cocktails, the Negroni would be on it. There are many reasons why I love this classic Italian cocktail but perhaps the most relevant is that it is by far the easiest cocktail to make. Equal parts gin, Campari, and sweet red vermouth poured over ice, stirred until it's chilled, an orange peel for garnish and you're set!
Today begins Negroni Week, an initiative that was first started by Imbibe magazine two years ago. From June 1 – 7, 2015 bars across the world will especially promote Negronis and $1 from every cocktail is given to charity. Everything you need to know about #NegroniWeek you'll find here – http://negroniweek.com/
This is the first year that India is part of it and Aspri Spirits that imports Campari has roped in 43 bars across Mumbai, Delhi, Gurgaon, Bangalore and Chennai. Apart from the charity angle, there's also the fact that many of these bars are mixing up the traditional recipe and creating some very interesting variations. So throughout this week why not drink for a cause.
And if you're attempting to make your own at home, watch how in the video below. The Negroni is one of the best cocktails to twist around too, so if you have your go-to mix share it with us in the comments below.
THE RECIPE:
45ml Campari
45ml Sweet vermouth
45ml Gin
Garnish: Orange twist
Glass: Old Fashioned
Add all of the ingredients to an Old Fashioned glass filled with ice. Stir and garnish with an orange twist.
A LITTLE HISTORY:
The drink which dates back to somewhere around the 1920s was created at Bar Casoni in Florence, when Count Camillo Negroni ordered an Americano (sweet vermouth, Campari and club soda) with gin as a substitute to the soda. Why dilute when you can make more potent!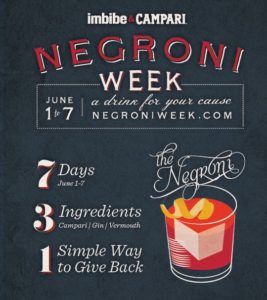 THE BARS:
Mumbai & Pune
Aer @ Hotel Four Seasons, Boveda, Café Mangii, Copa-The Bar,
Harbour Bar @ Taj Mahal Palace And Towers, Harry's Bar + Café, Nido, Nom Nom, Olive Bar & Kitchen, PDT, Radio Bar, Sancho's, Silver Beach Cafe, Six Degrees @ The  Leela Mumbai, Starboard @ Taj Mahal Palace And Towers, The Elbo Room, The Guppy Pop Up At Olive Bar & Kitchen, The Irish, HouseThe Treesome Cafe, The United Sports Bar And Grill and Olive Bistro, Pune
Delhi & Gurgaon
Ambrosia Bliss, Amici Café, Artusi Ristorantee & Bar, Benihana, Dos Burros, Guppy By Ai, Harry's Bar + Café, JW Marriott Hotel New Delhi Aerocity, Koa- Kitchens Of Asia, Moets BBQ, PCO, The Backyard, The Chatter House, Vault Café, Zerruco
Bangalore & Chennai
153 Biere Street, Arbor Brewing Company, Blend @ Taj Club House, Bootlegger, Harry's Bar + Café, The Biere Club, Toit Brewpub