VIDEO: All About Indian Single Malts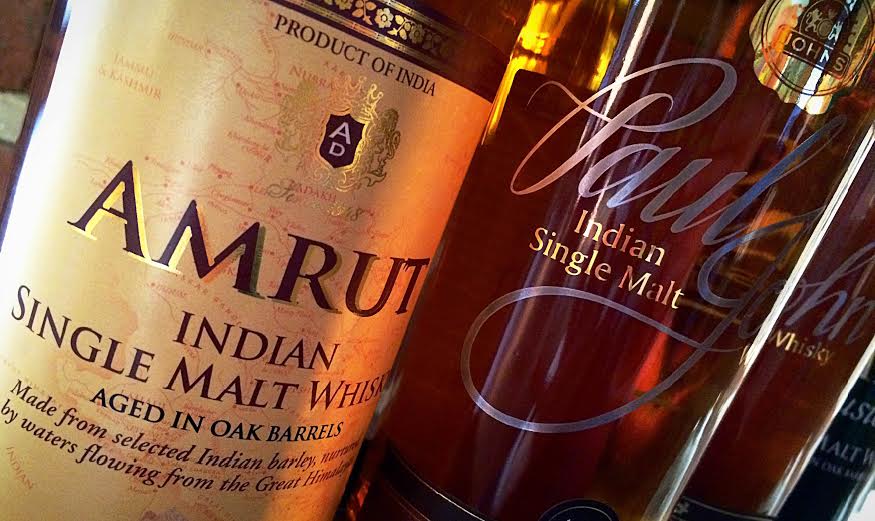 India is the world's largest consumer of whisky! Although most whisky that's made here is actually rum since it's made from sugarcane and not barley, it was only a matter of time before someone decided to make the good stuff the right way. Today Indian Single Malts are going great guns and it is all thanks to two brands that have created quality, award-winning malts. If you don't know them already, it's about time you acquaint yourself  with Indian single malts. Here are the essentials in 2 mins.
Until recently I relied on my NRI friends to bring me a bottle of Amrut. Now thankfully they're in India too. 3 of Amrut's 21 variants are available in Karnataka, Goa, Maharashtra and Punjab.
Amrut Indian Single Malt 46%: The flagship single malt, with rich characters of spice, fruit and honey. Bangalore Rs 2500 / Goa Rs 1900 / Mumbai 3500
Amrut Fusion Single Malt Whisky 50%: Uses two barley variants – Indian, with a little peated Scottish barely. Spiced, oaky, with a hint of smoke. Bangalore Rs 2900/ Goa Rs 2350 / Mumbai 3900
Amrut Peated Indian Single Malt Whisky 46%: Rich, intense and surprisingly fruity. Bangalore Rs 3200 / Goa Rs 2600 / Mumbai Rs 4100
Paul John has been raking in the awards lately and of their 6 variants, 2 are available in Goa and Bangalore. Soon these will be joined by a third called Bold which is their heavily peated version.
Paul John Brilliance 46%: Uses American oak barrels for a rich, floral and fresh palate. Bangalore Rs 2900 / Goa Rs 2130
Whisky Bible 2015 score – 94
Paul John Edited 46%: Partly peaty with a delicate sweetness. A winning combination! Bangalore Rs 3200 / Goa Rs 2600
Whisky Bible 2015 score – 96.5
This video was shot at the gorgeous Dramz Whisky Bar & Lounge . Special thanks to the lovely people at Amrut and Paul John for helping me piece together all the information and of course the great team at The Quint.