A Glenmorangie for every mood
I like patterns. I look for them in everything – words, design, nature… I especially love to look for them in my glass. Elegance – that was the pattern I found through my immersive tasting of some of Glenmorangie's range of whiskies with Dr. Bill Lumsden, Director of Distilling and Whisky Creation, recently.
When it comes to Scotch in India, Dr. Lumsden and the team have been very hands on. He visits often, and it is remarkable that he devotes time to conduct masterclasses and tastings himself. This time we delved into his 'Cabinet of Curiosities', which holds four of his signature single malts: Glenmorangie Original, Glenmorangie Lasanta, Glenmorangie Bacalta and Glenmorangie Signet – each so different but all connected by that characteristic elegance.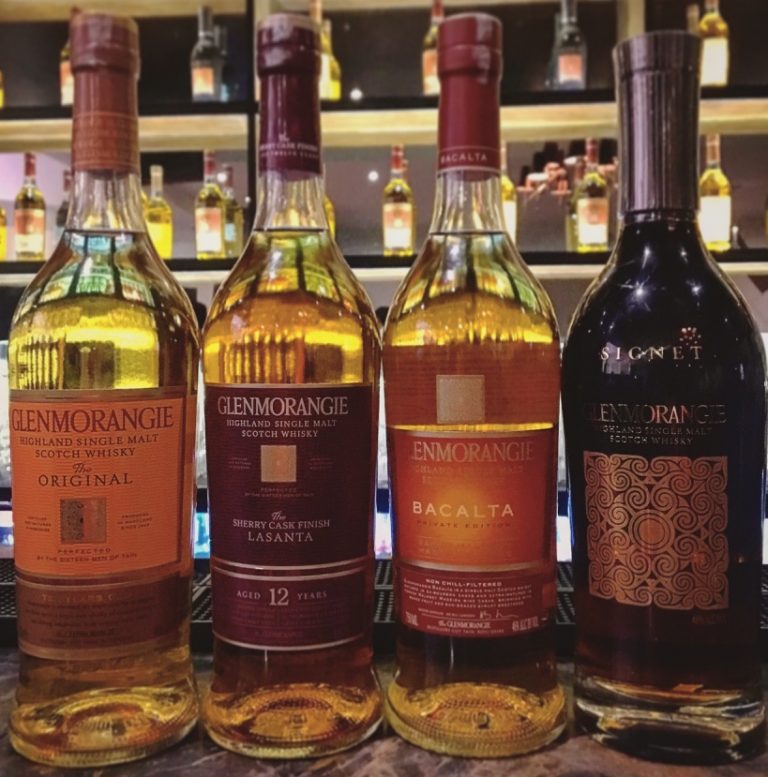 Glenmorangie Original: The classic, I really like this expression. It's delicate, floral with hints of citrus, ripe fruit and vanilla on the palate. This is Dr. Lumsden's flagship. If you don't know what Glenmorangie whiskies stand for, this is where to start.
Mood: The quintessential 7pm malt, any time of the day!
Glenmorangie Bacalta: A Madeira-finished whisky, this one is bursting with ripe fruit, honey and burnt sugar. A minty freshness and some nuttiness round off this hearty sip. The Bacalta is part of the Private-Edition series and if history is anything to go by, this bottle will be hard to come by soon. I first tasted the Bacalta back in February 2017 and my full review is here.
Mood: On wintry nights by a fire, dreaming of the sun. 
Glenmorangie Lasanta: I love the word Lasanta, it's Gaelic for warmth and passion. Finished in Oloroso and PX Sherry casks, this one, for me, is defined by a long lingering finish of spiced orange, hazelnut and warm spice.
Mood: Like a good book or a favourite work of art, one to mull over and revisit time and again.
Glenmorangie Signet: The Signet is special. It's the product of a secret experiment that Dr. Lumsden had kept going for years. It's unique in that it includes spirit distilled from Chocolate Malt (heavily roasted barley). The final product is an assemblage (a mix) of whiskies – some Sherry finished, some aged in new oak casks, a few secret ones, and a 'top-dressing' of 35 – 40 year-old single malt. It all comes together beautifully in the Signet with notes of dark chocolate, espresso and almond biscotti.
Mood: A sweet night-cap for dreams that are sweeter still, as long as it isn't limited to one.
On a separate note, I'm really impressed by how brands are using tech to market beverages nowadays. Glenmorangie's event had a few virtual reality booths set up. Slip on the VR headset and you're in Scotland – feeling the sea spray (no, really!), straining your neck up at the stills and plummeting feet first into a barrel. Taking it a step further was the integration of augmented reality into the live event. See why I called it an 'immersive tasting'?