Glenmorangie Bacalta Private-Edition VIII
If you follow me on Twitter or Instagram then you know by now that I'm partial to Portugal. Okay, extremely partial.
Which is why when I discovered that the latest edition of Glenmorangie is aged in Madeira cask, I was more than kicked to travel to Mumbai to attend a virtual tasting launch with their Director of Distilling, Dr. Bill Lumsden, all the way in Scotland, talking us through the finer points of their latest release.
First a quick introduction to those not familiar with Madeira. It is a historic and rare fortified (with added spirit) wine made on the island off the coast of Portugal which gives the wine its name. Madeira ranges from dry to sweet with Malmsey being the richest and sweetest style. What is so unique about this wine is how it is aged. Typically the barrels are heated, almost baked in the sun over a period of time. This imparts gorgeous rich nutty, caramel flavours.
Dr. Lumsden has been fascinated with Madeira wines for a long time and although 20 years ago Glenmorangie launched a Madeira finish whisky (the first distillery to do so), the Bacalta is a culmination of his dream to create 'the best Madeira-finished whisky possible'.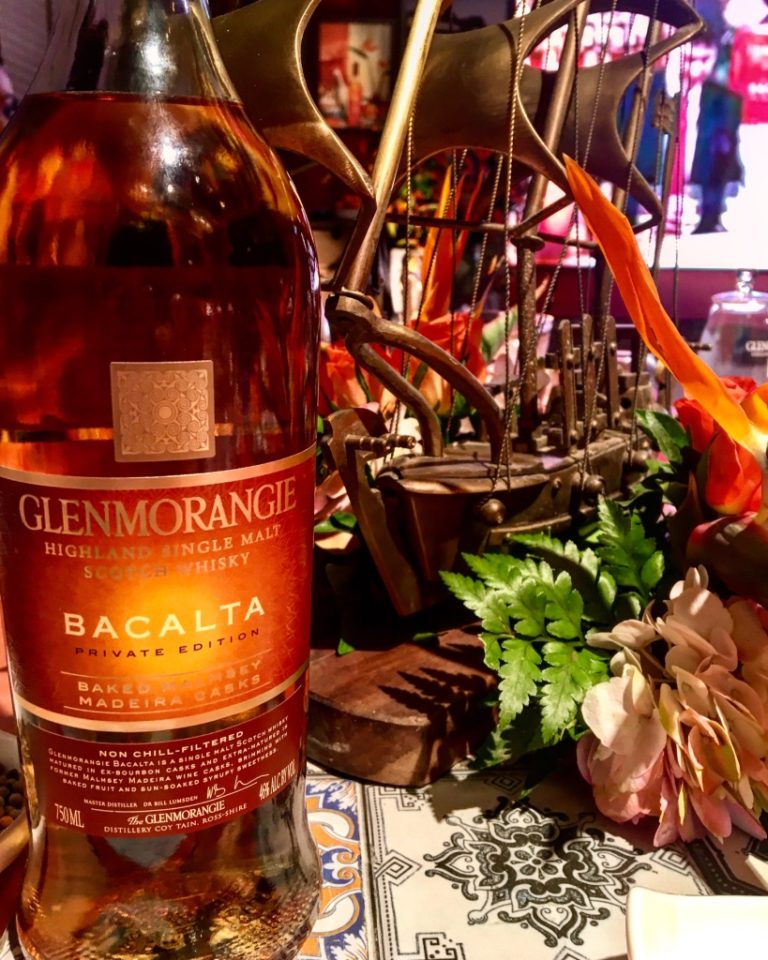 For Glenmorangie's eighth Private-Edition whisky, custom-made heavily-toasted American oak barrels were filled with Malmsey Madeira on the island and aged in sun-soaked warehouses for two years. Once emptied they were shipped to the Scottish Highlands and filled with Glenmorangie whisky that had already been aged for 10 years in traditional ex-bourbon barrels. Two years of extra maturation created Glenmorangie 'Bacalta' – the Scots Gaelic word for baked.
A tasting revealed an orange-tinged golden spirit and an oily appearance with thin legs slowly rolling down the glass.
On the nose aromas of ripe fruit like peaches and apricots, honey (mead) and burnt sugar are pronounced. There are also yeasty, oxidised, Balsamic notes reminiscent of Madeira wines. Slowly, floral hints and citrus zest emanate.
On the palate it was surprisingly peppery, something I didn't catch on the nose. A menthol mintiness at the end. The palate isn't as sweet as the nose suggests but there's a fair amount of toffee, dates, orange marmalade and a lovely burnt sweetness that is enhanced with a small splash of water.
Overall, Glenmorangie Bacalta is a beautifully crafted whisky with a unique flavour profile. As someone who loves Madeira wines, I enjoyed looking for various recognisable elements in the Bacalta and certainly wasn't disappointed. It has all the trademarks of what defines Glenmorangie's single malts to me – subtle, elegant and smooth.
Bottled at 46% abv and non-chill-filtered, Glenmorangie Bacalta will be available for Rs. 14,116 in Mumbai and Rs. 9,030 in Delhi.
As a side-note, a quick shout out to the Moet Hennessey India team that always manages events that are well planned and executed with their signature touch of class. Here are some more pictures of the launch event and the lunch that preceded it.