Beer Review: Bohemian King
The latest beer to hit the shelves here in Delhi is being touted as 'the first Czech beer in India'.
Bohemian King is conceptualised and branded for India, using the knowhow of the folks at Brevnov brewery in Prague, which was established in 993 and claims to be the oldest brewery in the Czech Republic. Currently Bohemian King is made at the contract Adie Broswon Brewery in Amritsar, Punjab. The malt comes from Haryana and the famous Saaz hops are imported from the Czech Republic. The head brewer is Michael Cerny.
A joint venture between India based Bohemia Beer Pvt. Ltd and Czech company Roneli, last night's launch celebrated Bohemian King, a strong beer with 7.5%abv. Plans are in place to launch a Bohemian King Mild in a couple of months and considering India is primarily a strong beer market it makes sense to have this one lead the way.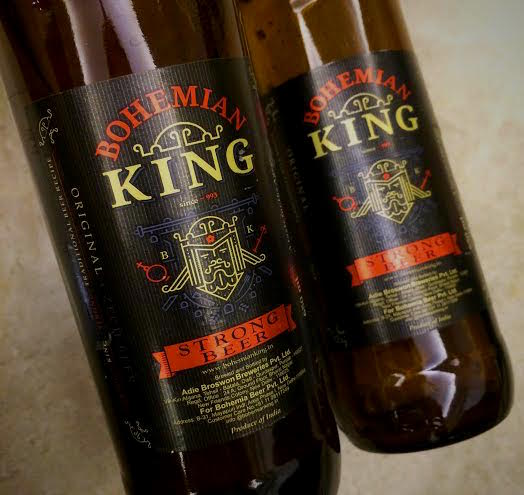 Bohemia King Strong Review
Strong Pilsener | 7.5% Alcohol by Volume (ABV) | Uses local malt and Czech Saaz hops
Appearance: Clear and bright golden. Medium-carbonation.
Aroma: Clean, subtle floral and spicy notes.
Palate: Malty palate giving way to a slightly-spicy hop character on the finish. Medium-bodied with a soft mouthfeel (compared to the usual prickliness of a pilsener).
Overall, I think the Bohemian King is a fair representation of the Pilsener style. It's not as crisp as I'd like but all said and done, in the category of strong beer in India, this is certainly a lot more drinkable than many others out there. It's priced at INR 160 for a 650ml pull-tab bottle.
For now the beer will be released in Delhi, Punjab, Rajasthan, Chandigarh, Haryana, Uttarakhand, Assam, Madhya Pradesh and Bihar (if the laws allow). Once they contract a second brewery closer to Maharashtra they will supply to states in central and south India as well.
According to the press release, Bohemia Beer Pvt. Ltd plans to invest Rs. 500 crores in India over the next five years. This will include the set-up of their own brewery in the next couple of years. While the primary focus is the local market, Rakesh Dhawan, Managing Director of Bohemia Beer Pvt Ltd and Antonin Kovarik, Export Director of Roneli suggested that in the future they might look at exporting as well.