Blind tasting the Wines of India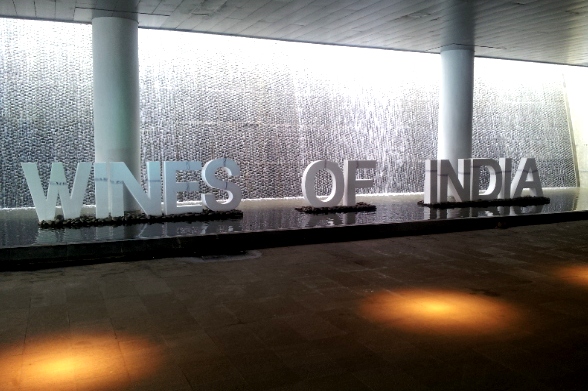 Recently The Westin Pune Koregaon Park organised a wine event called Wines of India. The purpose was to bring together, on a common platform, all the Indian wineries and to blind taste their wines. 11 wineries – Sula, Grover Zampa, Fratelli, Reveilo, Kiara, Turning Point, Vallonne, Four Seasons, York and Nine Hills – participated and their wines were categorised by grape variety. The jury comprised industry men, wine writers, bloggers, and some casual wine drinks too.  So I collected by score cards, and set off to the first of 10 stalls which stood prepped for tasters to come, sip, and drop their score into the ballot. The venue, thought not particularly conducive to wine-tasting, was pretty and elaborate.
What was surprising was that quite a few of the wines showed (tasted) quite badly during our tasting. I've tasted and liked many of these wines before (as have other industry folk I spoke with) so we couldn't quite figure out what had gone wrong. It brought up a heap of questions– do Indian wines only shine when tasted at the winery or in closed, controlled, formal tastings? Were the wines transported and stored correctly or do Indian wines fail to main any sort of consistency from one bottle to the next?
I don't know the answer to these yet. I'm still trying to figure out but with such a volatile thing like wine, transport, handling, storage all play a part. Where the fault lay, we will never know.
Though I left disappointed by the wines, the silver lining that can't be ignored is that if a hotel-chain biggie like The Starwood Group has seen merit in actively promoting and serving Indian wines at their outlets, others will follow suit  and it will definitely improve the wine market. A great initiative by The Westin Pune Koregaon Park, and one that they plan to repeat again. Soon, I hope.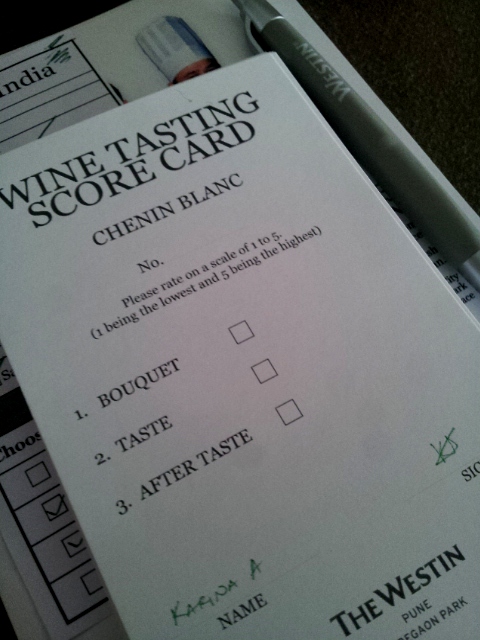 | | | |
| --- | --- | --- |
| Varietal | Winner | Runner Up |
| Chardonnay | Reveilo Chardonnay Reserve | Reveilo Chardonnay |
| Chennin Blanc | Nine hills Chenin Blanc | Reveilo Chenin Blanc |
| Sauvignon Blanc | Fratelli Sauvignon Blanc | Sula Sauvignon Blanc |
| Sparkling | Zampa Soiree brut | Zampa soiree Rose brut |
| Dessert | Sula Late Harvest Chenin blanc | York Late harvest chenin blanc |
| Merlot | Vallonné Merlot Reserve | Fratelli Merlot |
| Shiraz | Turning Point Shiraz | Sula Rasa shiraz |
| Cabernet Sauvignon | Reveilo Cabernet Sauvignon | York Cabernet Sauvignon |
| Cabernet Blend | Grovers La Reserva | Turning Point Shiraz Cabernet |
| Rose | Nine hills Rose | Vallonné Rosé |