GIGGLEWATER411 is all about scouting out the best of what's distilled, brewed, and fermented. It curates opinions and information on what's new and what's trending in the world of beverage, and every so often is presumptuous enough to tell you what you should be drinking!
In case you're curious, 'Gigglewater' is what they called alcohol during the 1920s Prohibition in America. So apt, don't you think?
This portal was founded and continues to be run by Karina Aggarwal, a certified beverage writer and commentator. When she isn't studying the contents of her glass, she curates and hosts trainings, tastings and workshops across wine, whisky, beer, gin and cocktails. She even juries at international wine and spirits awards.
Independently she consults with brands on their digital/social media marketing and assists restaurants with their beverage menus. Karina contributes to various magazines and websites in the space of wine & spirits, food and travel including GQ India, The Hindu, The Sunday Guardian, Spiritz magazine, Sommelier India, Eat Stay Love, Discover India, Foodlovers and others.
Disclaimer: The views mentioned on the site are in no way related to any magazine, website or brand that she is associated with.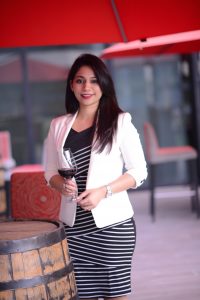 CONTACT
Email: gigglewater411@gmail.com 
Twitter: @giggle_water
Facebook:  @Giggle Water 411